Find suppliers of sensor magnets, motor magnets, and Hall induction magnets online, with stable performance and reasonable prices. Courage is your reliable magnet manufacturer.
Some netizens asked, what kind of sensors need magnets? The following editors have organized them, I hope to help you!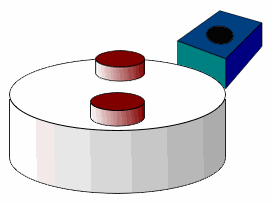 The animation above is a typical Hall sensor implementation for positioning applications - two magnets on a wheel pass through the Hall effect sensor.
Non-contact sensors use magnetic materials. Such as Hall sensor, car position sensor, motor speed sensor, weighing sensor, security alarm sensor, magnetostrictive displacement sensor, car brake sensor, car wheel speed sensor, magnetic control sensor, vehicle speed sensor, water flow sensor, inductive type Magnetic sensors, inductive sensors, etc.
The sensor works with magnetic steel to detect the size of the magnetic field, or use this principle to add magnetic materials to the sensor to detect ferromagnetic materials.
Different sensors use different magnets, such as sintered NdFeB magnets, injection-molded nylon magnets, ferrite multipole ring magnets, and bonded NdFeB magnets, depending on the customer. Design, we can produce these materials, welcome to consult and customize wholesale!
The article was originally edited by Courage Magnet Xiaofu, remember to contact us if you use sensor magnets!
More sensor magnet articles;
Which material is good for Hall sensor magnets?
Which side of the Hall sensor sensing magnet?