Injection ferrite magnet manufacturer Courage long-term supply of various specifications of motor injection magnetic rotor (with/without shaft), injection ferrite/NdFeb rotor, brushless DC motor rotor magnetic steel, to purchase samples, custom mold open welcome to consult!
8 pole and 10 pole D50-68mm sample with axial plastic-magnetic rotor;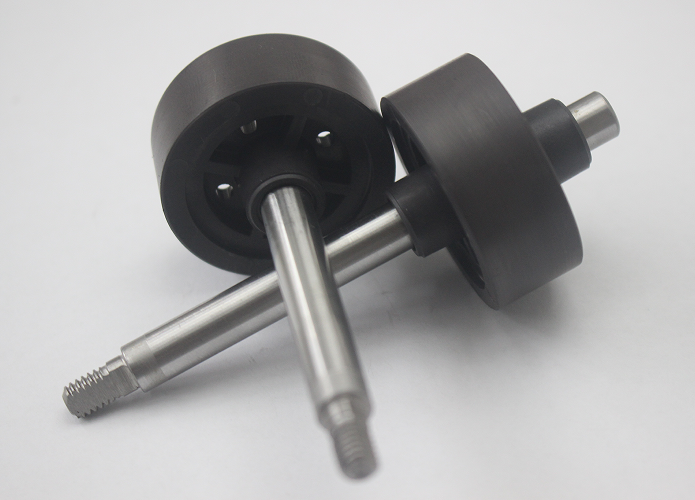 What are the magnetizing methods of injection molding magnetic;
Injection molded magnets can be magnetized in a variety of ways, such as radial, axial, radiative multipole or local.
Injection molding magnetic temperature characteristics;
The maximum operating temperature of injection molded magnets depends on the magnetic powder and binder used. For example, ferrite powder combined with nylon 6 or PPS can be tested at 180℃. Nylon 12 melts at temperatures above 170℃, so it is not recommended if the magnet is designed to be used at temperatures above 150℃. Take NdFeb magnetic powder with high magnetic energy product as an example, if its intrinsic coercivity is 9500 ost (760kA/m), no matter what kind of binder is used, under the condition of more than 120℃, the magnetic properties of the material will appear significant irreversible loss. The maximum temperature for each material will be listed in the product performance table.
Injection molding magnetic rotor product application:
Frequency conversion air conditioning motor rotor, brushless DC motor rotor, electric fan motor rotor, floor fan motor rotor, automobile instrument motor rotor, sensor magnetic ring, cylinder magnetic ring, cylinder magnetic ring, water pump motor rotor, micro motor, magnets used in microcomputer, copier, printer, energy-saving induction cooker, range hood motor, instruments, meters, automobile lifting motor, household appliances, Magnetic medical products, energy saving lamps and all areas of daily life.
See more injection molding material magnets: https://www.dgcourage.com/zhuanti/injection-molded-ferrite-magnets/
Related multi-pole rotor magnet with axis;
8 pole plastic magnet rotor with steel shaft