For radial ring magnets, the pole direction is radial from the center to the periphery, and its pole position and number of pole pairs depend on the magnetization method. There are also many methods of magnetization. According to the magnetization method, it can be divided into monopole magnet, multi-stage magnet, direct pulse magnet and oblique magnet. The number of magnetizing poles and the angle of inclination are determined by the final magnetizing fixture.
Radial ring magnets include sintered rare earth magnets, sintered ferrite magnets, hot-pressed/hot-deformed magnets, and bonded magnets. The radial magnets commonly used and talked about are basically sintered rare earth magnets, and the radial annular sintered magnets can be divided into NdFeB and SmCo according to the material. Sintered NdFeB magnets are commonly used in motor rotors.
Several schematic diagrams of magnetization of radial ring magnets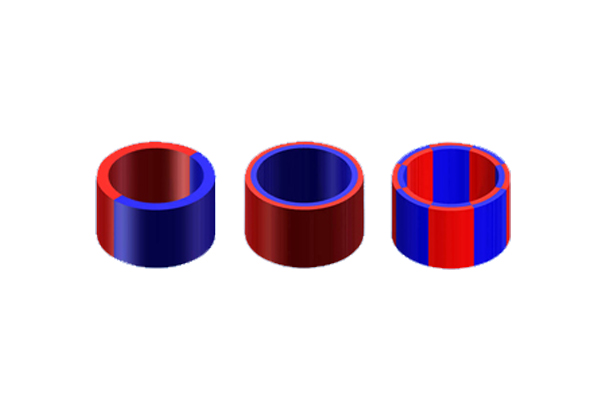 The rotor of the brushless DC motor is composed of permanent magnets with a certain number of pole pairs embedded on the surface of the iron core or in the iron core. Most of the permanent magnets are made of rare earth permanent magnet materials with high coercivity and high magnetic permeability induction density, such as neodymium, iron, boron, etc. The permanent magnets of the rotor act like the permanent magnets used in brushed motors. They all build up a sufficient magnetic field in the motor's air gap. The difference is that the permanent magnets in a brushless DC motor are mounted on the rotor, and the magnets in a brushed motor are mounted on the stator.
Currently, magnets with multi-pole magnetization on the outer or inner diameter are often used in servo motors, couplings and spindle motors, and magnets with opposite outer and inner diameters are commonly used in linear drives, high-end speakers, magnetic bearings, and compressors.
Advantages of Radial Magnets (Magnetic Rings) in Motors;
The assembly process of the motor assembly is much easier than the arc magnets glued to the ring, and the assembly cost is much easier.
The uniformity of the magnetic flux is improved, thereby improving the efficiency of the motor, and the assembly accuracy of the radial ring magnet will be much higher than the traditional multi-arc assembly accuracy, thereby improving the dynamic balance of the motor.
Improve the utilization of raw materials.
Our company is a professional supplier of motor magnets. We can provide arc magnets and multi-pole ring magnets of various materials. Welcome to consult your size!
Related radial ring magnet columns;
Introduction to articles related to radial magnets;
Introduction of Radial 4 Pole Ferrite Magnet Rotors
Neodymium Radial Magnetized Ring Magnets [application Schematic]