3mm diameter magnets are also small magnets commonly used in shopping malls, usually made of neodymium magnets, because if you change other materials, magnetic is not strong enough. The commonly used specifications are 3x1mm, 3x1.5mm, 3x2mm, 3x3mm, 3x4mm, D3x5mm, etc. Precision electronics, handicrafts, packaging handbags, instrumentation, etc. Today we will introduce how many Gauss and tensile strength this 3mm diameter small magnet has.
3mm diameter small magnet image;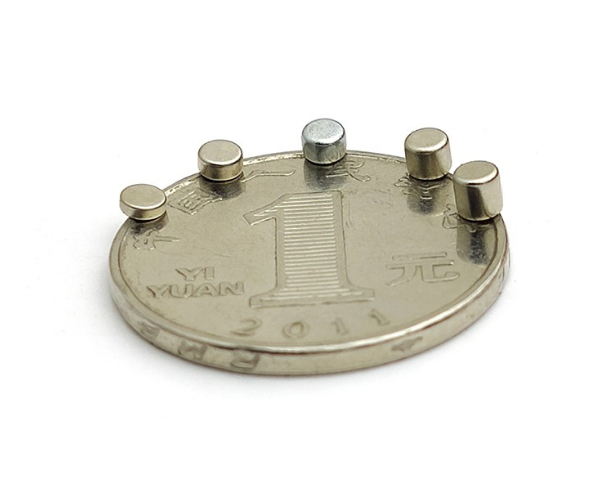 The commonly used coatings for 3mm small magnets are galvanized, nickel-plated, and you can also choose gold-plated.
What is the strength and tensile force of the surface magnetic field with a diameter of 3mm?
N35 grade 3x5mm neodymium round magnet, thickness magnetization, surface magnetism is about 4000 gauss, vertical pulling force is about 0.24kg
N42 grade D3x1.5mm round magnet, about 3300 gauss, vertical pulling force about 0.16kg
N42 small round magnet 3x2mm, the magnetic field strength is about 3690 Gauss, the vertical pulling force is about 0.21kg
N42 diameter is 3mm, thickness is 1mm, surface magnetic strength is about 2600 Gauss, vertical tension is 0.11kg
3mm diameter ball magnet, the surface magnetic field size is about 3610 Gauss, the vertical pulling force is 0.04kg
Thickness magnetization 3x15mm magnet, surface magnetization 4610gs, vertical pull 0.32kg
The above is the introduction of the magnetic field strength and pulling force of 3MM neodymium magnets. The data is for reference only. If you need a large number of wholesale strong small magnets, please contact Courage, the price may be lower.
3mm diameter relative magnet;
3mm dia and 3mm height neodymium cylindrical magnet 3800 gauss
N52 3x2mm neodymium magnets disc ±0.05 tolerance
Similar articles;
1mm thick round neodymium magnet magnetic field strength and suction force