Motor magnetic steel sheet, that is, sheet-shaped magnetic steel magnet, we call it a magnet tile, arc-shaped magnet, mainly used in DC motors, the number of magnets ranges from 2 to dozens of pieces, and most of them are used in the market. The magnetic tiles are mainly made of neodymium iron boron magnets and ferrite, a small part of which uses samarium cobalt magnetic tiles, so what are the precautions for the installation of motor arc magnets?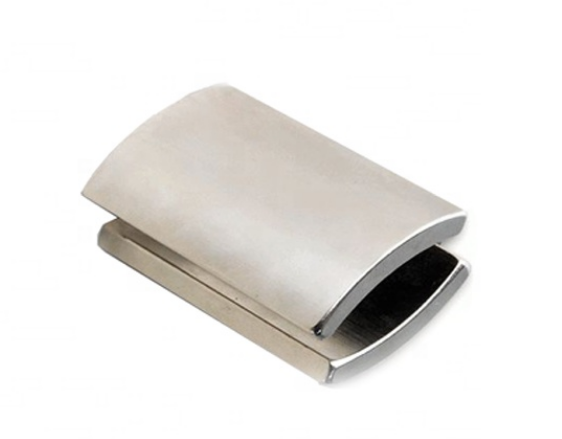 1. Be careful not to install reversed magnetic poles
According to the polarity of the magnet, we will usually confirm this with the customer, such as marking on the magnet to distinguish whether it is N pole or S pole.

2. Pay attention to the cleanness of the sticking surface
The surface of the motor shell pasted with magnets must be clean. If the magnets are magnetized magnets, due to the attraction and repulsion between the magnets, it is necessary to wait for the glue after the first piece of magnet is pasted. The second piece of magnet can only be attached after curing.
3. Points to pay attention to in terms of glue
To know that there are so many types of glue, not all glues are suitable, the type of glue, curing time, whether it expires, etc. all need to be paid attention to.
Netizen's experience: For low speed, you can directly use AB glue to bond. One is to use AB glue for high rotation speed and then fix it with a stainless steel sleeve. Many of the ones that only use AB glue are attached with a layer of plastic on the outside, so that one can be used for fixing, and the other is to prevent iron from being adsorbed. It is not easy to remove the surface of the magnet, or destroy the electrophoretic layer on the surface of the magnet when removing it! Generally, there is no big problem in bonding with AB glue below 3000RPM and diameter within 55.
4, pay attention to the force applied
After the magnetic steel is bonded, in order to accelerate the solidification of the glue and ensure the solidification effect, a certain pressure is applied between the magnetic tile and the casing, but if the pressure applied is too small, the quality of the glue solidification will be affected, and the pressure applied will be too large. It will cause damage to the magnet tile, deformation of the shell, etc.
The above are some precautions for the installation of motor magnets. Note: We only provide motor magnets, not magnet glue.
Relevant arc-shaped strong magnets;